Governments love the idea of a win-win – even when it doesn't exist. That's why Victoria has been spending millions on planning "red gum irrigation ponds" – essentially, engineered wetlands along the River Murray. These wetlands are designed to save some red gum ecosystems, leave many others to decline, and redirect billions of litres of water promised to the environment to farmers.
Controversy has followed these projects. Now, Victoria appears to have blinked, with the state's water minister, Harriet Shing, halting the development of four of nine projects.
Victory for environmental water? Not quite. Victoria has spent around A$54 million just on planning these projects. By halting four of them, it sets the scene for a larger-scale federal buyback of water for the environment. This could signal a resumption of the Murray-Darling Basin water wars, with Victoria the last holdout. National Irrigators' Council chair Jeremy Morton predicted "riot" if further water buybacks went ahead.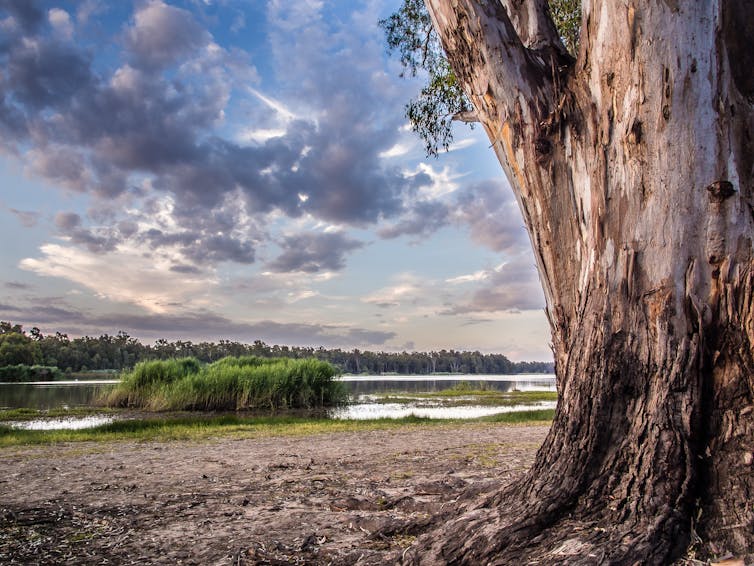 Iconic Australian trees like river red gums need irregular deep soaking from floods. Michael Rawle/Flickr, CC BY



What was Victoria trying to do?
Historically, flooding covered 6.3 million hectares of red gum, black box and coolibah forests, lakes and billabongs in the Murray-Darling Basin. These forests rely on regular floods to survive.
But the basin is also home to most of our thirsty crops, from rice to cotton to orchards. The demand for irrigation alongside the long-term drying trend from climate change means something has had to give. You guessed it: it's the wetlands, which are drying out and dying.
In 2012, state and federal governments launched the Murray-Darling Basin Plan in a bid to solve longstanding tussles over water. The plan was intended to preserve environmental flows while allocating set volumes of water to farmers.
But it's not working properly. As our research shows, only 2% of the basin's wetlands have received managed environmental flows each year since.
To keep wetlands alive with less water, there are two basic options: use pulsed flows from dams to flood a larger area, or build floodplain infrastructure to maintain some wetlands while abandoning others.
Victoria has pursued infrastructure. As originally planned, these projects would have meant building $320 million of dams, pumps, levees and roads in conservation reserves to artificially pond water – while leaving less water in the main river channels. Similar projects were proposed in New South Wales at Menindee Lakes, but these are unlikely to proceed.
These projects are greenwashed as "environmental works". Victoria brazenly calls its plan a "floodplain restoration project".
It is not. Since the plan began, irrigators have been credited with 605 billion litres of water for 36 largely unimplemented projects under the sustainable diversion mechanism. In November 2022, basin authority chief Andrew McConville laid out the problem:
The credit has been banked, but the payment still needs to be delivered. The payment is in the form of the [wetland] projects being in operation by 30 June 2024.
Our thirstiest crops cluster around the rivers of the Murray Darling Basin and rely on water in irrigation channels like this. Shutterstock



Water has been credited to irrigators before the wetland projects were built. As a result, actual environmental flows are 19% lower than the Basin Plan target of 3,200 billion litres per year.
Building wetland infrastructure is unprecedented
Around the world, nations are going the other way to Victoria and removing floodplain infrastructure. In China, across Europe and in the United States, efforts are under way to reconnect rivers to their floodplains. Why? To reduce flood impacts (levees intensify floods downstream), improve water quality, restore flood-dependent ecosystems, make river systems more recreation-friendly and diversify local economies.
Only in the Murray-Darling Basin are we seeing governments building infrastructure for environmental water offsetting on such a huge scale.
And just as controversies have dogged Australia's attempts to offset biodiversity losses and carbon emissions, there are major problems with water offsetting.
The reason for this offsetting is political, not ecological. In 2012, Victoria's then water minister, Peter Walsh, stated the plan was meant to:
stop irrigation water being stripped from rural communities and food and fibre producers, and to achieve better environmental outcomes.
In fact, these projects are environmentally dubious. Ponding water on floodplains may meet some ecological targets, but it cannot replicate unconstrained natural floods. Worse, it risks harming ecosystems by upending aquatic food webs and leading to lower native fish populations and worse water quality.
Victoria's very expensive projects would water only 14,000 hectares of wetlands. By contrast, safe flood pulse releases from existing dams would water 27 times that area – 375,000 hectares.
In his royal commission report into how the Murray-Darling water-sharing system works, Commissioner Brett Walker found there was "real doubt" over whether projects like this were based on the best scientific knowledge.
Our research backs his conclusions. We have found flaws in how these projects are evaluated, which mean their environmental benefits are overstated.
What's likely to happen now?
Four down – but what about the remaining five projects?
There's a better option. In 2013, the basin's governments agreed to a strategy that would allow pulsed releases from existing dams to fill river channels and spill onto the floodplains.
Under this strategy, the Commonwealth would pay for roads and bridges to be removed or raised to make way for restoration of natural floods, and for compensation to landowners.
Our research shows this approach would reduce flood damage by moving infrastructure off floodplains, and allow floods to spread out more, lowering water height and speed. It would also water a much larger wetland area at far less cost. But the strategy has not yet been implemented.
Next month, federal and state water ministers will meet to discuss the failing basin plan. If the new NSW water minister, Rose Jackson, backs her federal Labor colleagues, it will leave Victoria as the last state objecting to water purchases for river restoration.
The federal water minister, Tanya Plibersek, shows every indication of implementing Labor's 2022 election policy of buying back the remaining water needed to meet the 3,200 billion litre environmental restoration target under the plan. (The federal government has bought back around 2,100 billion litres since 2008.)
The stage is set: will Plibersek prevail and finally achieve long-sought environmental restoration goals under the basin plan, or will Victoria hold out?

Jamie Pittock, Professor, Fenner School of Environment & Society, Australian National University y Matthew Colloff, Honorary Senior Lecturer, Australian National University
This article is republished from The Conversation under a Creative Commons license. Read the original article.