Like every year, on International Women's Day we like to highlight the role of women in the water sector. This year we travel to the past to talk in this post about those women that came before us in the water sector. They did not receive the recognition they deserve, because our patriarchal society only told one part of history.
Mary the Jewess (between the 1st and 3rd century A.D.): the first woman alchemist, known also as Mary the Prophetess, invented the bain-marie (hence its name), also known as a water bath or double boiler. Another of her inventions was the tribikos (a sort of alembic with three arms that was used to obtain substances purified by distillation) and the kerotakis (a device used to heat substances used in alchemy and to collect vapours).

Engraving from 1617 (Wikipedia /cc)
Hypatia of Alexandria (370-415): although known for her contributions to philosophy, mathematics and astronomy, Hypatia was also interested in mechanics, and her contribution to the world of water include the invention of a distiller, a device to measure the water level and a graduated hydrometer to measure the relative density of liquids, a precursor of the current aerometer. Although none of her works survived to present day, she is considered one of the most important scientists in history.

Portrait of Hypatia (Wikipedia/CC)
Isabella Cortese (16th century): in her book The Secrets, published in 1561, we can find all that is known of this Italian alchemist and writer of the Renaissance, as it was also an autobiography. The book is divided into four parts: remedies for different illnesses, chemistry, cosmetics and advice on how to run a household and cooking recipes. She studied older books for more than 30 years, and travelled through Eastern Europe, where she learned alchemy.

Cover of the book "The secrets of Lady Isabella Cortese (1561)
Marie Meurdrac (1610-1680): this French alchemist and chemist lived in the 17th century. Her book La Chymie Charitable et Facile, en Faveur des Dames [Easy Chemistry for Women] was one of the first works on chemistry and pharmacy written by a woman and for women. Some of her methods are still in use nowadays and the book was a great success, with several editions in the following years. We know that she was self-taught for the most part, although it seems she visited Jean Beguin's chemistry and pharmacy labs in Paris.

Cover of La Chymie Charitable et Facile, en Faveur des Dames ​ (Wikipedia/CC)
Elizabeth Fulhame (18th century): was a Scottish chemist who became an honorary member of the Philadelphia Chemical Society. Among her works, we may note her book An Essay On Combustion, which tried to find practical applications for her experiments, although she devoted her life to theoretical chemistry. Fulhame published her experiments on oxidation reactions in the presence of water. Her work was a very important step for chemistry, as well as a milestone for women in science.

An essay on combustion: with a view to a new art of dying and painting Where the phlogistic and antiphlogistic hypotheses are proved wrong, 1794 (Wikipedia/CC)
Marie-Anne Pierrette Paulze (1758-1836): considered the mother of modern chemistry, her interest in the field stemmed from her marriage to Antoine Lavoisier. However, her contributions to chemistry are not as well-known as those of her husband. After Lavoisier's execution during the French Revolution, she gathered his documents, organised them and published Mémoires de Chimie [Chemistry memoirs], laying the foundation of modern chemistry. The first volume contains work on heat and the formation of liquids, while the second deals with the ideas of combustion, air, calcination of metals, the action of acids, and the composition of water.

Portrait of the Lavoisier couple from 1788 (Wikipedia/CC)

Experiments in human breathing. Drawing by Marie-Anne Pierrette Paulze, shown taking notes on a nearby table (Wikipedia/CC).
Ellen Swallow Richards (1842-1911): she was the first woman admitted to the prestigious MIT to study chemistry. Her work, together with her husband's, on mineral chemistry analysis, led her to become the first female member of the American Institute of Mining and Metallurgical Engineers. Her professional career focused on the environment: air, water and soil testing. She was a pioneer of environmental protection. She is considered one of the founders of 'environmental hygiene', or one of the mothers of environmental engineering.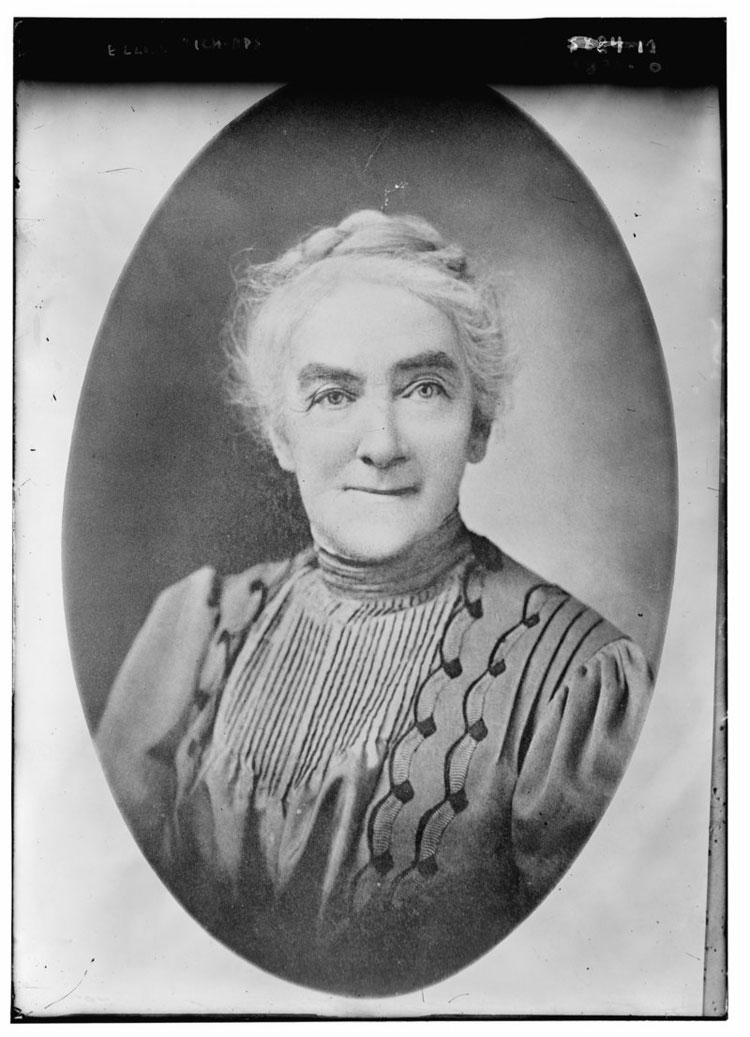 Ellen Swallow Richards (Wikipedia/CC)
She founded the Women's Laboratory, a programme for women at MIT, where she taught women basic and industrial chemistry, biology, and mineralogy.
In 1887, Ellen Richards was commissioned the laboratory work on the water supply in the United States. That led to the establishment of a Sanitary Engineering Programme at MIT in 1890. As an instructor, she taught her students about drinking water, waste water and air quality testing.
Her studies had a profound impact on the study of waste water, contributing to the creation of the Woods Hole Oceanographic Institution. There she studied water pollution and designed safe supply systems. She also established the discipline known as 'home economics', a mix of cooking, nutrition, water supply, hygiene and health.
Agnes Pockels (1862-1935): pioneering scientist in the field of molecular surface tension and monolayers. Even though she could not access formal training as a child, she showed interest in physics since she was a girl. With no access to university, she gained access to scientific literature through her brother.

Portrait of Agnes Pockels (Wikipedia/CC)
Agnes was a woman who liked to experiment, so she did her own tests with what she had available: water from doing the dishes. That way she discovered the impact of impurities on the surface tension of liquids. To measure surface tension, she designed and refined her own instruments and a quantitative method to measure the size of molecules and the surface tension of monolayers of oils, grease and soaps, achieving great precision. This instrument is known as the Pockels trough.
With the support of John William Strut, she published her first paper, 'Surface Tension', in the journal Nature, and published twice more in that journal before she died.
These are only a few of the thousands of women who have contributed to history (and specifically, to water related history), but, all who matter are not here.