The restoration of peatbogs across Scotland is helping to protect source water quality and reduce carbon emissions.
Scottish Water experts are carrying out analysis of 400 sites throughout the country to ensure they are as healthy as possible to lock up greenhouse gases as a natural "carbon sink".
The majority of the drinking water we supply to our customers has run through peatland at some point on its journey to our reservoirs and water treatment works.
It can help stop harmful emissions and even help capture and store carbon from the atmosphere that might otherwise be contributing to climate change.
Peatland restoration is a key activity within our net zero emissions routemap.
To mark World Bog Day 2021, we visited one peat bog which surrounds Glendevon Reservoir in Fife to see just how important this habitat is to our ecosystems.
The restoration plan on land adjacent to the Gleneagles estate, will prevent the peat from further drying out and eroding due to the weather.
Peatland erosion also leads to naturally stored carbon escaping into the atmosphere from dried out peat and is one of the biggest risks to global warming.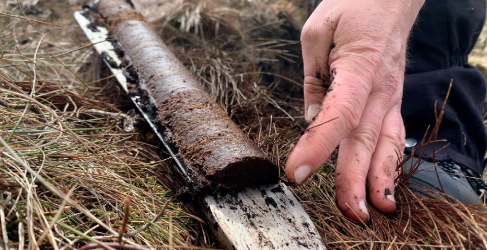 "Through our peatland restoration work we are helping to address these issues, support a flourishing Scotland and contribute to Scottish Water's Beyond Net Zero Emissions ambition" (Jared Stewart, Catchment Management Technical Lead, Scottish Water)
According to the International Union for Conservation of Nature UK (IUCN), 42% of the world's carbon is trapped in stable bog peatlands, with a quarter of Scotland blanketed in peat and home to some of the finest peat in the world. Some peatland areas are considered so rare and crucial to carbon capture and storage they are currently being considered for World Heritage status.
Each year tonnes of dried, destabilised peat is washed or blown down from the upper peatlands around Glendevon reservoir, releasing CO2, and requiring high energy water treatment processes to remove the organic matter during the freshwater treatment process. Stabilising the surrounding peatland should dramatically decrease the amount of peat being stripped off the hills and reducing the need to use energy to remove organics matter.
Since 2017, our Sustainable Land Management team has surveyed drinking water supply catchments to assess potential opportunities for peatland restoration, both on Scottish Water and third party owned land. Many of these opportunities are now being developed into on-the-ground restoration projects in conjunction with landowners and programmes such as NatureScot's PeatACTION.
Over the next six years the team will complete the assessment of all catchments. Where restoration work is required, we will negotiate with landowners and stakeholders to agree who will fund and deliver projects.
Where it is agreed that Scottish Water will lead on restoration projects, Catchment Liaison Officers will initiate and manage projects, working collaboratively with landowners and stakeholders.
In 2020/21, 45 hectares of restoration took place, which equates to capturing and storing between 31.5 and 126 tCO2e per year. 
In 2021/22 we aim to deliver a further 330 hectares of restoration, capturing and storing another 231 to 924 tCO2e per year. 
Catchment Management Technical Lead Jared Stewart said: "Peatland is a prime example of where we can make a difference and is an iconic part of Scotland's natural landscape. It retains water, sequesters carbon and is a key contributor to keeping our source waters clean.
"Unfortunately, over many years a lot of Scotland's famous peatland has been eroded and destroyed, becoming a major emitter of carbon and contributing to issues such as flash flooding and source water degradation. Through our peatland restoration work we are helping to address these issues, support a flourishing Scotland and contribute to Scottish Water's Beyond Net Zero Emissions ambition."